How to get to Siargao
The most convenient way of getting to Siargao from Manila is flying to either Surigao or straight to Siargao.
If you opt to land in Surigao, you need to ride the ferry to Dapa Port for Php135. Travel time depends on the condition of the sea but usually takes two to three hours. Lots of vans (Php300 – 500), tricycle (Php200 – 300), and habal-habal (Php200) are waiting in Dapa Port that will offer you ride to either Cloud 9 or General Luna. It takes at least 30 minutes to get to the town proper.
Sayak Airport in Siargao, however, is a bit farther than Dapa Port and could take you 45 minutes before you could reach General Luna. Vans (Php300 – 1000) and tricycle (Php400) are also available as transportation.
From what I noticed, there are no jeepneys in Siargao. The town mostly relies on habal-habal as mode of transportation. General Luna to Cloud 9 is at least 10 minutes by habal-habal and would cost you Php20 per ride.
Very little can be done in Siargao as it is a small and pretty much laid-back town. Aside from surfing in the internationally renowned Cloud 9, you can also visit the neighboring islands of Daku, Pansukian, and Guyam, which are at least 10 minutes away from the town proper General Luna. Fixed rate for island hopping is Php1500. Or, if these all still don't interest you, take a dip in the natural pools of Magpupungko. For me, the best thing to do in Siargao is enjoying a bottle of iced-cold beer from one of the local stores while watching the amazing sunset in Cloud 9 boardwalk.
There are loads of resorts and lodges within the Cloud 9 area but, of course, expect it to be more expensive than those around town proper, General Luna. During my stay in Siargao, we were accommodated by Wave Cave, A Surfer's Lodge & Beach Bar. It is 3.5 kilometers away from famous Cloud 9 boardwalk yet near the boulevard, market, town plaza, and all. Wave Cave boasts of its cozy and relaxing bar located in its second floor, perfect for small parties after your surfing sesh. Highly recommended because of the superb Wi-fi connection, well-air conditioned rooms and clean facilities, location, staff, and owner himself. Rate starts at Php700.
Where to eat in Siargao
Frankly, we had difficulties finding a decent yet cheap eateries in Siargao. We had to endure breakfast-less mornings because most of the eateries and cafeterias in Siargao open at 11AM. But lo and behold as General Luna boulevard transforms into a hotspot in Siargao at night with its row of eateries that serve basic yet delectable meals. Those who lodge in Cloud 9 gather in GL boulevard at night where they share their surf stories for the day. The Ocean 101 Bar and Restaurant in Cloud 9 is a must-try too as they serve western and Filipino cuisines.
Itinerary (with side trip to Mabua Beach)
Day 1
Day 2
Day 3
Day 4
Day 5
0800H – 0845H : Manila to Surigao via plane
0845H – 0900H : Surigao airport to Surigao Port by multicab
0900H – 1200H : buy ferry tickets, eat brunch, wait for departure of ferry
1200H – 1500H : Surigao Port to Dapa Port by ferry
1500H – 1530H : Dapa Port to Wave Cave lodge in GL
1530H – 1600H : settle things with lodge, rest
1600H – 1700H : walk from GL to Cloud 9
1700H – 1800H : rest in Cloud 9 boardwalk
1800H – 1900H : dinner in Cloud 9
1900H – 1920H : Cloud 9 to Wave Cave lodge by motorbike
1920H – 2100H : rest, lights off
0700H – 0900H : breakfast in the boulevard
0900H – 0920H : Wave Cave to Cloud 9 boardwalk
0930H – 1100H : swim, surfing lessons in Cloud 9
1100H – 1230H : lunch in Ocean 101
1240H – 1300H : Cloud 9 to Wave Cave lodge
1300H – 1500H : rest
1500H – 1540H : go to market and buy ingredients for lunch during island hop
1540H – 1600H : Wave Cave to Cloud 9 boardwalk
1600H – 1800H : take photos, watch surfers
1840H – 1900H : Cloud 9 to Wave Cave lodge
1900H – 2000H : rest, fresh-up
2000H – 2100H : dinner in GL Boulevard
2100H – 2200H : rest, lights off
0800H – 0855H : breakfast in Wave Cave lodge
0855H – 0900H : walk from Wave Cave lodge to GL port
0900H – 0910H : GL port to Guyam Island by boat
0910H – 1000H : eat snacks, chill
1000H – 1030H : Guyam Island to Naked Island
1030H – 1045H : photo ops in Naked Island
1045H – 1115H : Naked Island to Daku Island
1115H – 1200H : cook, prepare lunch
1200H – 1300H : lunch
1300H – 1400H : rest, siesta
1400H – 1600H : swim
1600H – 1630H : Daku Island to GL Port
1630H – 1900H : rest at Wave Cave lodge, fresh-up
1900H – 2000H : dinner in GL Boulevard
2000H – 2100H : drink in Wave Cave lodge bar
2100H – 2200H : pack things
2200H – 2300H : rest, lights off
0400H – 0430H : fresh up, prepare for departure
0430H – 0500H : Wave Cave lodge to Dapa Port by habal-habal
0500H – 0530H : buy tickets, wait for departure
0530H – 0830H : Dapa Port to Surigao Port
0830H – 0845H : Surigao Port to lodge by tricycle
0845H – 0900H : settle things
0900H – 1030H : brunch in town proper
1030H – 1530H : rest
1530H – 1600H : town proper to Mabua Beach by tricycle
1600H – 1700H : photo ops in Mabua Beach
1700H – 1730H : Mabua Beach to town proper
1730H – 1830H : buy souvenirs, pasalubong
1830H – 1900H : rest in lodge
1900H – 2100H : explore town
2100H – 2200H : pack things, rest, lights off
0500H – 0600H : prepare, fresh-up
0600H – 0700H : breakfast in town proper
0700H – 0715H : town proper to Surigao airport via multicab
0715H – 0730H : check-in / boarding
0730H – 0900H : wait for departure
0900H – 0945H : Surigao to Manila via plane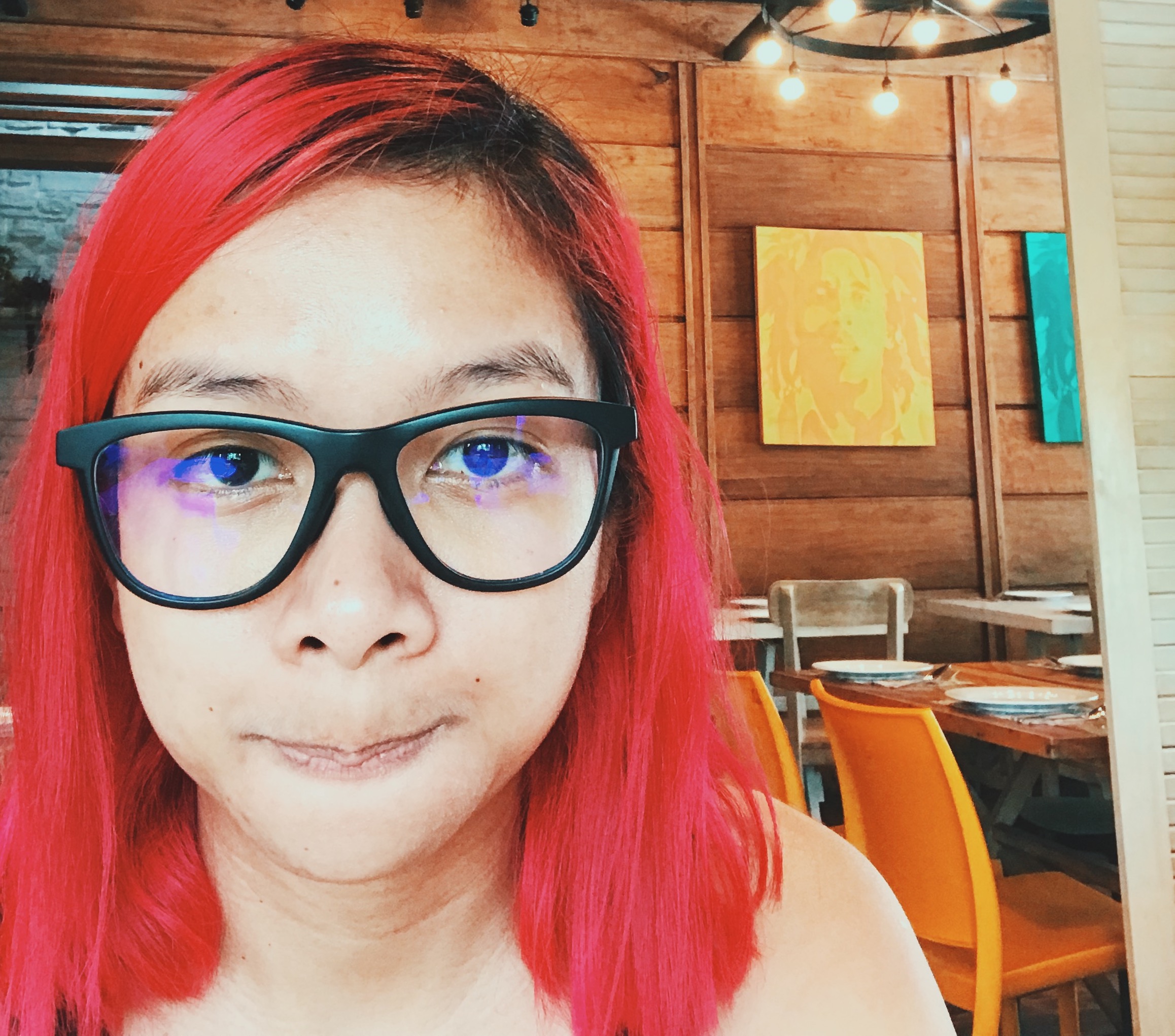 Kaiz is a stay-at-home mom and currently works as an Operations Specialist for a software engineering company based in the US.