My 101% confidence level was at an all-time high when I thought I wouldn't have any problems with my visa application for our company trip to Barcelona this year. Imagine how bummed I became after receiving a Schengen visa refusal letter from the Spanish consulate along with my no-visa-attached passport a couple of weeks after my application.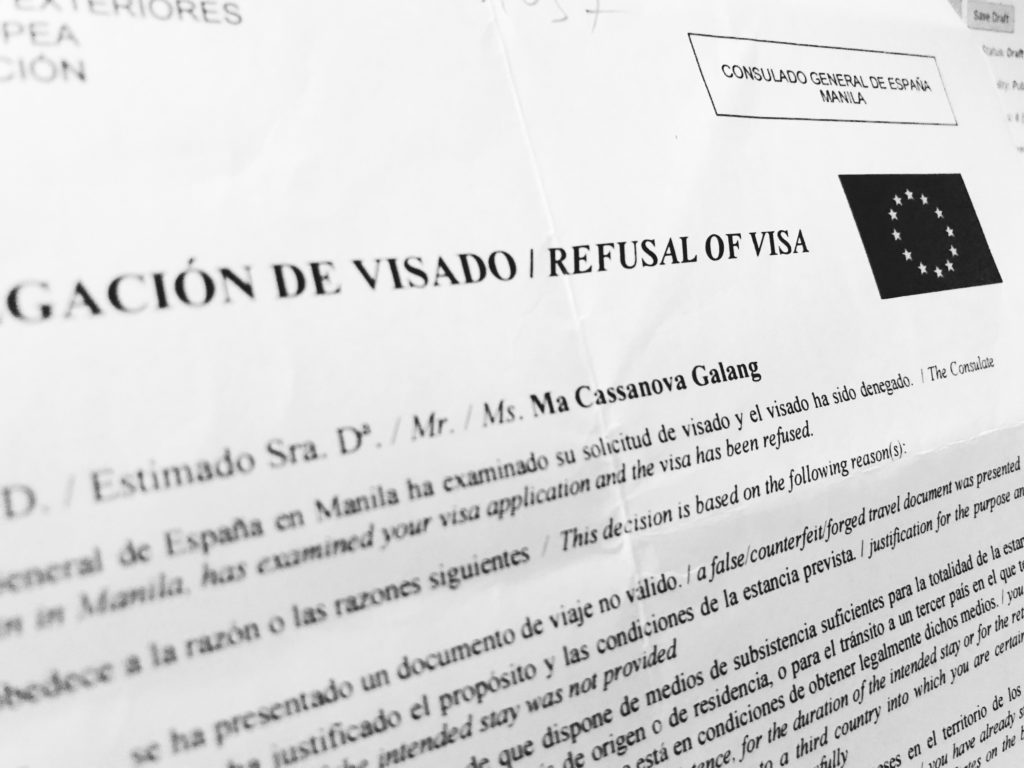 Truth be told, leaving the corporate world, which has become my life for a decade, to be a work-from-home mom is one of the best decisions I have ever made in my life. All the universe also conspired after I landed a job with Analytics Fire—a US-based software engineering company—as an Operations Specialist. Barely two months after getting hired, I was informed by my manager that I am joining them in Poland for its annual company-wide meeting. Long story short, I reached the historic city of Kraków via Hong Kong and Germany in November of last year without any hiccups. From visa application to the questioning at the immigration, everything went well.
As I have successfully obtained a 90-day multiple-entry Schengen visa before, and now that I have an idea of how the hullabaloos of the application go, I thought my next Schengen visa application would be a piece of cake. I underestimated Spain.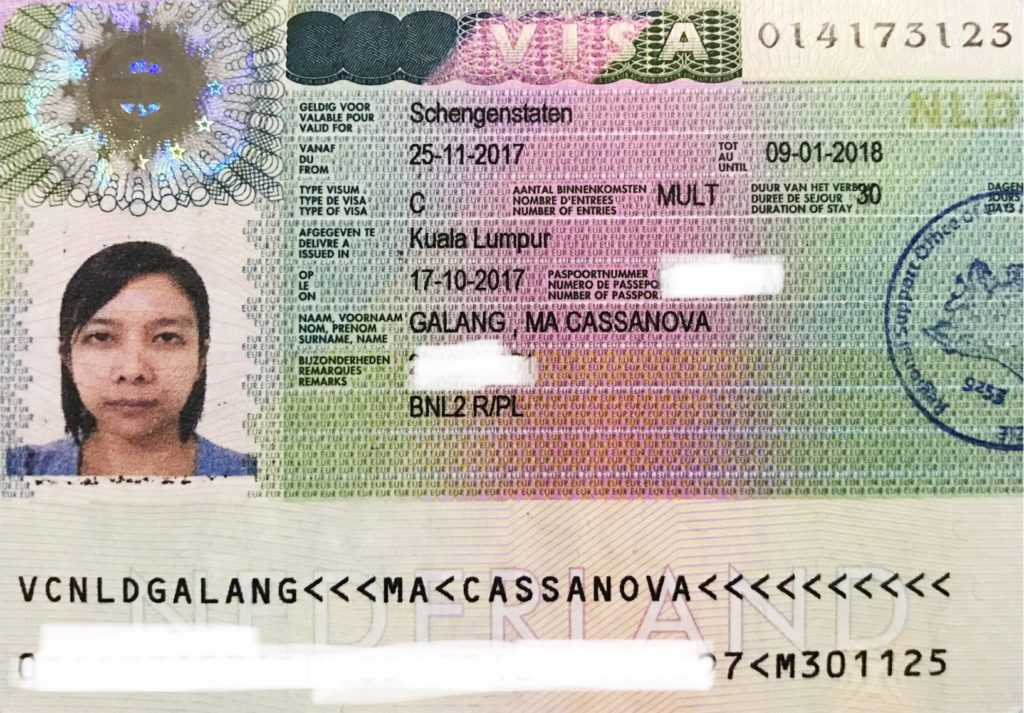 The Application
In the Philippines, the Netherlands issues visas to travelers going to Poland as their main Schengen destination. All applications are being handled by VFS Global. Though Spain has its own embassy and consulate here in the country, all short and long-term visa applications are processed by BLS.
Same as my application via Poland/the Netherlands, I scheduled an appointment online and went to the application center on the date of the appointment to submit all most of the requirements and have my biometrics taken again.
On my copy of BLS' receipt of my documents was a stapled note saying that if I don't receive my passport 4-5 business days after my appointment, I should visit the consulate for an interview. I can clearly recall the person who received my documents saying, "hindi na ho kayo ipapatawag nito kasi may Schengen visa na pala kayo dati." Sadly, five business days passed by and no passport was delivered, which meant I have to go to the consulate for an interview. I called BLS to ask for the status of my application and I was told that only the consulate can provide an update and that I need to go to the consulate for the interview.
The Interview
The week after the waiting game, I went to the consulate. You see, this process is the part I didn't like. You cannot schedule this interview and any other visit to the consulate past the submission of your documents in BLS. You have to be super early to get in front of the queue along with many other applicants. The worst part is they will make you wait outside of the building where there is not enough seat for everyone.
You can walk in Monday to Thursday from 8:00 – 8:30 a.m. This is not really the case. I arrived at the lobby a few minutes before 8:30 and I am already #38 on the list. So for you who may need to go through this, please be there as early as you can.
At the lobby facing Gil Puyat, approach the guard, get yourself listed, wait for your turn, surrender your gadgets, and go up to the 5th floor where the consulate is located. Once inside the consulate, wait for your number to be called by the person who will be interviewing you. Since I was #38, there were 37 people ahead of me giving me the chance to observe how the interview goes.
From what I see while waiting for my turn, once you're called, the interviewer will pull out your envelope and documents, ask you questions concerning your trip to Spain, and stack your envelope along with the envelopes of other applicants. If you have made business with any government office in the country before, you can picture how the office looks like: a couple of windowed counters in front of several chairs. The distance between the counters and the chairs isn't far and, unless you're busy doing something, there is no way you won't hear the conversation between the interviewer and the interviewee.
The duration of the interview and placement of your envelope on the stacks (group A and B) depend on your answers. Some were quick and some took some time. Those who were interviewed quickly were grouped into A, and those who were asked several questions were grouped into B. Given the chance to observe being one of the last applicants that day, I deduced that group A is the rejects and the B is the lucky fellows. I was grouped into A along with my two colleagues who were with me.
The interviewee thanked me and told me to just wait for the decision.
The Rejection and Appeal
I was in Buscalan when my passport was delivered to my residence. For those who had been there, you'd know that signal in that area is weak to zero. I read the bad news from my mother who received my passport only the day after. "Refused daw." It wasn't quite a shock. With how my interview went, I kinda anticipated that my visa application would be denied. Funny thing is, all 12 of us (my teammates) who applied were refused for these reasons:
Justification for the purpose and conditions of the intended stay was not provided
You have not provided proof of sufficient means of substinence for the duration of the intended stay or for the return to the country of origin or residence, or for the transit to a third country into which you are certain to be admitted, or you are not in a position to acquire such means lawfully
The information submitted regarding the justification for the purpose and conditions of the intended stay was not reliable
Your intention to leave the territory of the Member States before the expiry of the visa could not be ascertained
Submitting different personal documents, we thought that the reasons weren't reasonable and we had to do something to justify that our intent to go to Spain is purely for business purposes only. After intensive research, we found out we can either re-apply or submit an appeal. Re-applying means paying for the visa application fees again without guarantees that the decision will be different the next time if we are just submitting the same documents. We went to make an appeal because it only requires a letter justifying why you should be allowed entry to their country.
Since our presence at the company meeting is vital, a group effort—from the CEO to the project managers down to our colleagues in South America—was initiated to make an appeal to the consulate for the reconsideration of our applications. We wrote our appeal letters and our software engineers who spoke and write Spanish translated them for us in hopes that the consulate will appreciate the efforts and solidify our intentions of a business trip.
[su_note note_color="#E0007C" text_color="#ffffff"]On my next post, I will discuss how to lodge an appeal and what should be included in the appeal letter, and copies of the refusal letter from the consulate and the appeal letter I submitted.[/su_note]
Ultimately, despite the additional documents we submitted, out of 13, only one in our team was granted a visa. This time, the decision for our appeals was no longer the same for everyone. Mine was Your intention to leave the territory of the Member States before the expiry of the visa could not be ascertained.
Should we decide to make another appeal, it would now be lodged to the High Court of Justice in Spain, which did not pursue because of the following:
It takes time (1 to 2 months), which we don't really have right now.
It is costly because we would need to hire a lawyer to do this (professional fee, application fees, authorization fees, etc.).
Mostly, it has no guarantees.
Where It Went Wrong
Unlike with Poland where applying for a business visa focuses on your sponsor's capability to fund your travel to and from their country, there are more documents required when applying via Spain even if it's for a business trip. If Poland doesn't require your personal financial statements and income tax return (ITR), Spain does, and showing proof of your sponsoring company's capability to fund your travel to and from Spain isn't enough. You still need to present documents proving your sustenance in their country.
The reasons the consulate gave were too generic and weren't explained in detail. It's up to you, I guess, to figure out where you could have gone wrong with your application and an encouragement to do better on your next attempt.
Your intention to leave the territory of the Member States before the expiry of the visa could not be ascertained.
Upon further research, I found out that one plausible explanation, for this reason, is if you declare on your application that you are a freelancer, which I did, then all the more reason why you MUST be able to present an ITR, which I failed to do. This is my biggest mistake, assuming that the requirements are the same for all Schengen countries and gloating over my hassle-free experience in getting a Schengen visa before. Next year, I'll do better.
I should be in Barcelona right now eating tapas, drinking beer, and sharing stories with these amazing people.